VLATKO STEFANOVSKI / THEODOSII SPASSOV + CHICUELO / MARCO MEZQUIDA
National Opera and Ballet, Skopje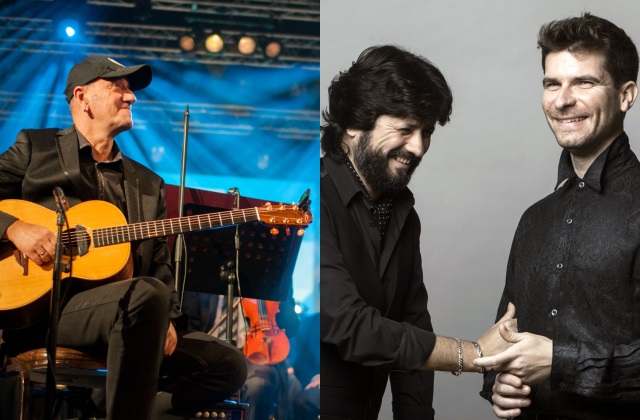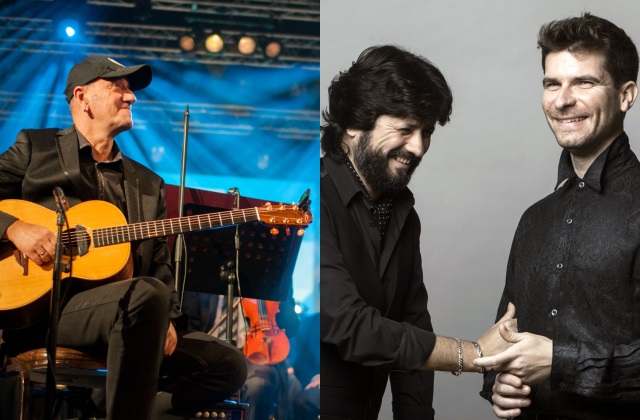 Event map
VLATKO STEFANOVSKI / THEODOSII SPASSOV + CHICUELO / MARCO MEZQUIDA
VLATKO STEFANOVSKI / THEODOSII SPASSOV (N. Macedonia/Bulgaria)
Vlatko Stefanovski is one of the most original Balkan and European guitar players. Over the last five decades, he has recorded 14 albums with LEB I SOL, and has played all over the world, thus the band was acknowledged the halo of one of the most significant influences on the Former Yugoslavian music stage. Since the mid-90s he has built a successful soloist career. The collaboration with Miroslav Tadic on projects like "Krushevo", "Treta majka"… has cast a new light on his dexterity with the acoustic guitar, and especially on his later search in the field of Macedonian traditional music. During the last decade he has played, recorded and travelled all over the world with musicians like Tommy Emmanuel, Stochelo Rosenberg, Jan Akkerman, Bojan Z., Manu Katche, Toni Levin and many others. The Bulgarian virtuoso Teodosii Spasov is the first musician to play jazz on kaval, marrying traditional folk music to elements of jazz and classical in his compositions. He has built his own unique performance style, and his performances represent an uncommon synthesis of folklore, jazz and classical music. He has recorded 38 albums, counts numerous world tours and collaborations with names such as Trilok Gurtu, Rabih Abou-Khalil, Dave Liebman, Billy Cobham and many others. Stefanovski and Spasov began their collaboration on the project Balkan Fever which culminated at the Skopje Jazz Festival 2013 with the Macedonian Philharmonic Orchestra and conductor Kristjan Järvi.
CHICUELO / MARCO MEZQUIDA (Spain)
Juan Gómez 'Chicuelo' is one of the most outstanding guitarists on the flamenco scene and one of the most interesting and prolific songwriters of recent generations. He is currently considered a major innovator of the flamenco guitar, following in the footsteps of the legendary Paco de Lucía. His talent as a composer and songwriter has been awarded with a prestigious Goya Award. He is currently the regular guitarist for the best flamenco singers alive, such as Miguel Poveda and Duquende, with whom he has been on various tours of Europe, Japan and the United States. Now he will join forces with another great musician from Spain, pianist Marco Mezquida. "Prodigy, magician, the total musician…", and so much more has been said about Marco Mezquida. At the age of only thirty, it is clear that much more is yet to be said. Mezquida shines equally as composer, pianist, improviser, accompanist and bandleader. As an eclectic and versatile musician at the top of his creative power is apparent as his creative power seems endless. He has already recorded more than forty albums, of which ten as a band leader and composer. The list of artists with whom Mezquida has shared the stage, projects or studio is endless. His final album with guitarist Chicuelo "No hay dos sin tres" (2019), builds new bridges between them and their respective backgrounds, but also anticipates their next work and names the joy of these collaboration of three, with percussionist Paco de Mode.