Printing tickets
Printing tickets for all kind of events, festivals, concerts, gatherings, private and corporate events etc
Contact:
contact@mktickets.mk
Wristbands
Printing wristbands with your logo, company name, event etc
Features:
Color ( Blue, Green, Yellow, Red, Pink, White, Orange, Purple etc)
Untranslatable as soon as they are used
One size fits all the users
Easy to carry and use
Waterproof
Possibility of numbering
Fast delivery
Usually are used for events that are of one-time character. They are made of Polypropylene material, which ensures durability, waterproofing, easy-fitting, economical and comfortable.
It is important to emphasize that one size of the wristbands corresponds to all users, thanks to the sticky ends that adjust the size to the wrist. There are also safety cuts at the end of each link that prevent tearing without tearing the ends. The wristband can not be broken easily, but they can easily be cut with scissors, which is great for short-term use.
They are commonly used in music and sports events, nightclubs, discos, amusement parks, organized excursions and similar short-lived events. The wristbands are available in various colors with the possibility of printing a logo or text, which increases the security ie. reduces the possibility of counterfeiting. Even greater security is achieved by printing barcodes or serial numbers.
Renting fences (barriers)
Professional, "Mojo" type of barriers, steady, for better security, crowd management, Fan Pit or VIP zone isolation etc. Developed to protect visitors of events. Their height prevents visitors from suffocation or crushing in case a venue should become overcrowded or if all visitors move towards the stage. At the side of the stage the barriers include small steps allowing the security guards to safely lift people out of the audience (e.g. when visitors require medical attention). Our team is ready to bring, mount and handle the barriers at your event. Contact us for any details and prices.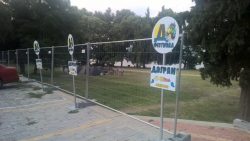 Type: Big gray fence
Dimensions: 2 meter high х 3 meter wide
Type: Small gray fence
Dimensions: 1,5 meter high х 2,5 meter wide
Type: Small orange fence
Dimensions: 1,5 meter high х 1 meter wide