André Rieu
S.C Boris Trajkovski, Skopje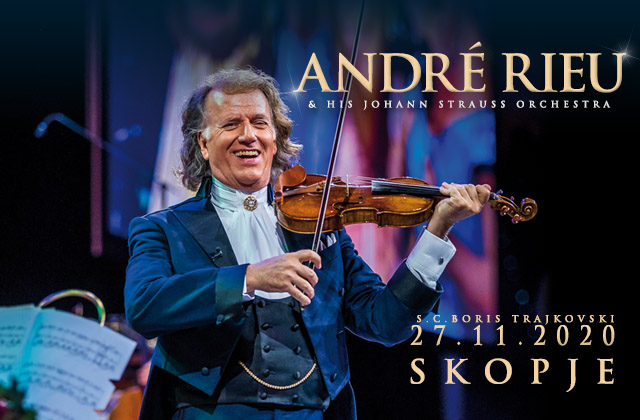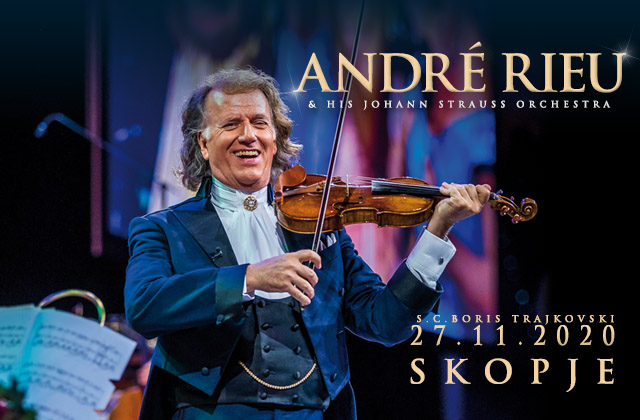 Event map
André Rieu
Superstar André Rieu returns to Skopje in 2020
André Rieu, the Dutch "King of Waltz", who has made classical music accessible to all, will bring his Johann Strauss Orchestra back to Skopje as part of his world tour in November 2020.
André Rieu says: "My orchestra and I are so excited to return to Skopje this year during our world tour 2020. Our last visit in 2019 was truly unforgettable and very emotional. The Macedonian audience is so enthusiastic, passionate and warm-hearted. It will be wonderful to come back to your country in November to celebrate love, life and of course: music.
This exclusive event will take place in S.C. Boris Trajkovski in Skopje, Macedonia on the 27 November 2020.
Tickets are available online and from 13 March 2020 through our ticket sales points:
Skopje: Literatura.mk ул. Македонија, Literatura.mk – ТЦ Буњаковец, Literatura.mk – ГТЦ, Универзална сала
Kumanovo: Aгора, Tetovo: Тобако Монако, Гранд Тобако Veles: Унисон, Gostivar: Вона Пет, Kicevo: Т.А. Меридијан, Prilep: T.A. Бран, Kocani: Т.А. Либеро Травел, Ohrid: Т.А. Глобус Травел, Kosovo/Pristina: Rave Travel
Reservations: +389 76 474 453
email: deni@password.mk
RESTRCITED VIEW TICKETS INFORMATIONS:
A restricted view ticket is a ticket, where the view to the stage might be partially obstructed by some obstacles in the venue (e.g. barriers, speaker, camera, scenic design or venue infrastructure). For this reason, restricted view tickets are sold at a lower price. All restricted view seats that are made available for purchase will be flagged in the ticketing system as "restricted view" at the time of purchase. Tickets purchased with the restricted view flag will not be entitled to a relocation or refund at show time due to their impaired view.
Tickets
Standard ticket

Buy tickets

27-11-2020 Price: 2000-7750ден.